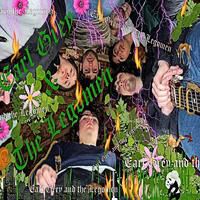 Rate: 6/10
Well…mates from Liverpool, looks promising. So, let's see.
Britain in the rain -
live instruments clashes the rhyming guys a little bit, but the chorus is melodic, so the thumbs goes up for that one.
Retreat
– interesting instrumental which sounds like a rehearsal jam so I won't count it as a serious piece.
Big man
– quite depressive, headless vocals don't work good there either.
Catch me as you can
– very good composition, if only it was recorded better!
Secret Bunkers
– Nice, Joy division like atmosphere, I think the best one on the record. Generally, it's hard to say if Earl Grey and The Legomen might be giants or not. It's just poorly recorded, with vocals too loud and the instruments too quiet.
Plooms of Doom
it's a nice teaser, but I will wait for something a bit more professional to recommended further. For now, it's fifty-fifty.
The cover is cool, and they got one point more for it. Reminds me of The Charlatans or Happy Mondays covers. Too bad the band is not from Madchester ;-)
I think their live act maybe interesting. If I got a chance I would go to see it for sure.
regards,
galaktycznyzwiad