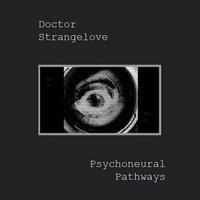 Rate: 10/10
Whatever I'll say about this record, it will be subjective. Goa-trance is a specific music style, and you can only love it or hate it - there is nothing in between. With me, it's even more complicated, because if I listen to some goa which is not perfect, I despise it from the beginning to the very end, but when I come upon the one it's done well, than I'm very much emphatic, and I don't see flaws of such record.
Psychoneural pathways
is such a case.
I love all of this album. From
10 Years Too Late
, the first tune on the record, to
Skunk Rock
the last one, it's the old retro-trance in its best. The beats are neat and in the correct rhythm, the melodies are frantically crazy, as it should be. What more to say? If you love goa, you'll love
Psychoneural pathways
.
About the cover. It's another thing, that makes me like
Doctor Strangelove
's set. It's simple but attractive. Definitely recommendable.
The last but not the least… If I had a chance to listen
Doctor Strangelove
's live act I'll do it. I hope it'll be as energetic as the LP.
stay cool,
galaktycznyzwiad.