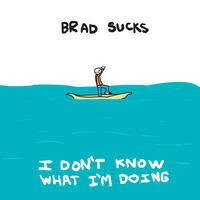 Rate: 9/10
This record is an absolute killer for me. If you grew up in the 90s' with its indie-rock revolution and post-modern mashups and you still like such music,
I don't know what I'm doing
has a lot to offer to you. Brad Turcotte, a leader of one-man band Brad Sucks ;-) very neatly mixes digital tracks with guitar energy. Add a little bit surreal lyrics to that and what you get is an extraordinary blend reminding me of the best moments of Beck's Mellow Gold.
My favourite songs of the LP are:very dancy
Making me nervous
and quiet and sentimental
Overreacting
. These songs are like two sides of the same gold coin.
Work out fine
and
Look and feel years younger
with its modern-rock ballad mood are also potential hits from the album.
The layout of the CD is very cute. This little lost mate in the boat is simply adorable! The description of Brad Sucks – one man band with no fans is also cool. You know that the author is self-ironic and thinks more about music and not stardom – an attitude hard to find these days. Personalny I think Brad doesn't suck much – it rocks, dude! ;-)
The only disadvantage are tiny glitches at the end of some tracks. I think mp3 files should be smoothed out, because sometimes it steals the delight one has from listening to the album. One point down for that.
In summary I don't know what I'm doing is the most frequent record in my player, and I suppose it will be his way for next few weeks.
Big respecto for Brad!
galaktycznyzwiad.
p.s. checking
Brad Suck's website
is a must.