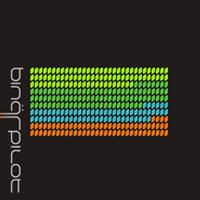 Rate:9/10
One just has to like 8-bit self-ironic electro to write something good about it. Well… I do like it ;-) The Norwegian composer created a really nice experimental trip through drills, drums and melodies. What I loved, were also the lyrics (which is quite rare in this strictly instrumental kind of music). Let us take
Sandjorda
for example which begins with verses:
I've got something to say gonna say it quick/With a melody behind to make it stick/You'll never hear this song on the radio/Never see me perform on a TV-show
. Isn't that very much true?
To summarize. There are 4-tracks on
Defrag
, 15 minutes of muziq as such. If one adores melodic chip-tunes it's his record. If not, he'll survive anyway - it's just a quarter of time, so I would recommend it to everyone around.
About the cover. It's fitting very nicely into a genre
Binärpilot
plays. So it's one thumb up again.
It would be ten then, but still, there are some imperfections.
Widibf
is a little bit too monotonous, and this record lowers an overall note. Because of that it's nine this time, but I keep my eye on the artist.
saluto,
galaktycznyzwiad.