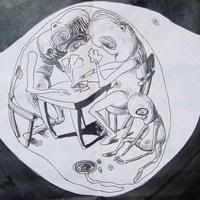 Rate:7/10
That's a good record. Cross-overing funk, experimental jazz and what is called in
Kolektyw's
land of origin yass is a good metgod to make a nice, solid album.
Etopiryna
does not fail and I won't hesitate to recommend this debut to anyone. I wouldn't be me, however if I didn't find something that is far from perfection on this LP. ;-)
The music is ok, the experiment is acceptable and it does not turn into its parody, as it happens sometimes with avangarde music. We got a nice piece of good instrumental, technically skillful without any composition flops. I've got some remarks concerning the last part of the record, though. I know that Tymanski's blueses are hilariousm but that one is not. If this part, 'A sad song', was meant to be funny, it isn't, if it's serious than it's nothing special, maybe even a little bit embarassing because of not very elaborated lirycs. It's five minutes out of the 28 minutes of the record, so it's almost 20 percent of the reocrd. Two points down for that (in my humble opinion, of course).
The next thing is that the record is not divided into particualr compositions. I understand that it is a concept album, but it can have tunes nevertheless, isn't? Personally, if I would like to mark out one of the compositions, I couldn't. These two things make my note slide to seven out of ten.
The cover is nothing special, and it's not innovative or astethic enough to change my note. I would listen to
Etopiryna
live, though, because they are a very promising band.
Stay cool and evolve,
Galaktycznyzwiad.